Jobs, internships, volunteering
If healthy child development, quality education, violence and radicalization prevention, culture of peace and more are meaningful to you, do consult our job and volunteer opportunities herewith.
How to prepare and submit your application to Graines de Paix
To apply, prepare your CV + photo + personalised cover letter + references after having read our preselection criteria, then please read below how to submit.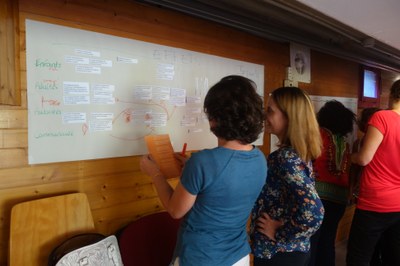 Internship opportunities
We are happy to welcome interns in the following cases:
Mandatory or optional internships as part of a training course leading to a qualification.
After a first training course (e.g. Bachelor's degree, Federal Diploma of Vocational Education and Training, professional maturity, etc.), internships for orientation to a second training course (e.g. Master's degree, Bachelor's degree, etc.), provided that the relevance of the training course is attested to by the training institute organising it.
Professional or social reintegration training courses provided that they are covered by a federal or cantonal legal framework.
We sincerely appreciate your interest in wanting to donate your time to enhance our work on education for peace. If you love organizing events, consider volunteering for our events committee. Or maybe you like to run communication campaigns, manage CRM tools, or have other creative, strategic, fundraising or activity ideas... our team would be very appreciative of your support.
We invite all interested volunteers to contact us in the first instance by email outlining your motivation and areas of interest.  We will share this with the relevant team and contact you directly to arrange to discuss the current opportunities.
Contact us by email.